Velocity Internet & Phone
Frequently asked questions about Velocity Broadband
What is Velocity?
Velocity is Cruzio's next-generation internet product offering much higher speeds than DSL. Every Velocity line comes with the local Cruzio service you've always relied on for your home and business connectivity. Every Velocity line also comes with Fusion Voice local and long-distance phone service.
Where is Velocity available?
Cruzio's Velocity Internet will initially be available to many homes and businesses within the Santa Cruz city limits, Live Oak, Capitola, parts of Scotts Valley, Aptos, and Watsonville. As always, Cruzio will continue to look for ways to expand our service area over time.
How fast is Velocity?
Speed is dependent on distance from the phone company and line quality, but Velocity can reach speeds up to 75 Mbps depending on your location.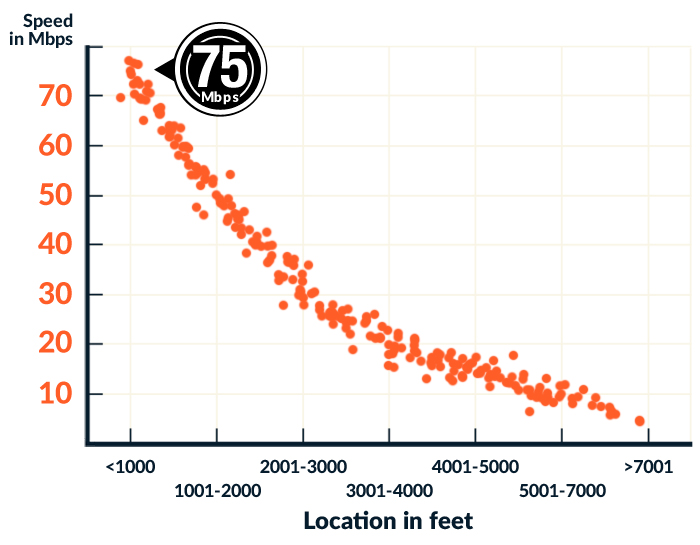 Do I have to sign a contract?
Nope, Cruzio does not require a contract. No commitment and no early termination fees: you have the flexibility to change your service when you want to.
Is Velocity through AT&T?
Unlike DSL, Velocity does not require AT&T phone service. That's the great news! You can break up with AT&T and let Cruzio handle all of your communication needs.
Are there any additional taxes and fees?
Each line will be billed certain taxes and fees each month. A Cruzio modem will cost $9.99/month and there will be around $10/month in taxes and fees per phone line. For details, see Fusion phone taxes and fees.
How will I know if I qualify for Velocity?
Submit the form above, and our friendly support team can do a simple check to see if you qualify. A few factors may impede providing service, like the circumstance of the service location, the distance from the central office, or the condition of the telephone wire. Cruzio would love to be your internet provider. Our support team will work with you to find a solution.
Velocity not available at your location?
Our other services might meet your needs:
What equipment do I need for Velocity? Can I use my DSL modem?
Velocity requires a PTM-compatible modem. A standard DSL modem will not work with this service. We recommend using a Cruzio modem which will maximize speed, ensure the best possible service and support. There's no upfront cost, just a low monthly fee and if there is ever an issue we'll replace it free of charge. If you decide to use third-party hardware, look for a PTM-compatible modem. Please note that we can't guarantee non-Cruzio hardware will work with our service, and there will be a minimum $25 fee if configuration is required.
Does Velocity come with phone service?
Absolutely! Velocity Internet comes with Fusion phone service. Fusion phone is a traditional land-line service and includes caller ID, call waiting, and three-way calling. Plus, Worldwide Calling to over 66 countries is free! Check out our rates page if you're curious about a specific country. Plus you can manage these features online. Visit https://fusionbroadband.com/login/default to activate your account.
Does Velocity let me keep my existing phone number?
You bet. Depending on your current provider, we may need to issue a temporary number while the transition takes place.
Can I get Velocity without phone service?
No, Velocity Internet and Fusion Phone are only available as a package. Even if you don't need the phone, most people will save money over other internet-only solutions.
How long will it take to get service activated?
Generally, a new order will activate phone and internet service within 5 to 7 business days. There are some variables that would affect the activation time. If an install is required, service will not function fully until its completion. Moving an existing phone number over from a non-AT&T phone service can take up to an additional 3 weeks after activation to complete, during which time you are provided with an active temporary phone number.
Do I have to cancel my current phone service/Will Cruzio automatically discontinue my phone service with my previous provider?
As a general rule, we always recommend contacting your previous provider to make sure that your service is canceled. Only contact your previous provider to cancel after your Velocity service is activated, not before. Remember, other long-distance services will not work with our Fusion phone service, so you'll also want to make sure you cancel them. Besides, Fusion phone comes with free unlimited nationwide calling, and Worldwide Calling to over 66 countries is free, so we've got you covered!
Will there be any downtime with the switch to Velocity? If so, how long?
There will be a short amount of downtime for both your phone and internet service on the day your Velocity service activates. How long that downtime will be varies depending on your previous provider and quality of phone lines, but generally is no longer than a couple hours. In most cases, phone and internet service is back online with Velocity by 8pm on your activation date.
Are there any monthly caps on the amount of data I can download or upload?
Nope! You can download, upload, and stream as much data as your Velocity line can handle without having to worry about going over any sort of limit or being charged any overage fees. However, if you're looking to move large amounts of data at faster speeds, you might be interested in our Enterprise Broadband services.